To start off with a bit of sincerity, here is something we have been thinking about the last month

Your journey begins with the first step. At DesiredFace, we are not only here to point you in the next direction, but to walk with you. We want to be a part of your quest for health every step of the way. We want to be there for you on the hard days, when working out just doesn't seem like an option.  We want to be there for you on the days where you feel great, when you train hard, and when you reap the benefits.  Most of all, we want to be there for you. Thanks for always sharing your journey with us, and we look forward to the future with you.
---
Flash Sale!
We are offering our FIRST ever monthly membership to our first 3 clients that sign up! You heard it here first! $300 for our monthly membership that includes 2 European Facial Workout classes per week! This is a great value for anyone looking to dive into fitness and make a change. Don't wait on this deal!
---
Do you know?
Facial exercises can be dated back to Cleopatra and have been used by women throughout the centuries to maintain a youthful look. Madonna, Reese Witherspoon, Gwyneth Paltrow and Jennifer Aniston are all known to use face exercises. It's one of their hidden secrets. European Facial Workout is toning your facial muscles and can helps to improve your looks naturally without surgery. It's not the skin that sags, as most people think. It's the muscles that are sagging, and they bring the skin down with them. Facials, creams will help but they only treat your skin and not the causes.  By practicing EFW you are toning your face muscles and not the skin. Facial exercise is increased blood circulation which increases skin elasticity and collagen production. So here's what I recommend. Come and enjoy my workshops where you can become an expert for only $125.
---
An update on our party
We had an amazing time hosting our anniversary party on the lake. We had clients and networking and food and drinks and everything fun you can possibly think of. We are sincerely grateful for our community and what it has brought to us.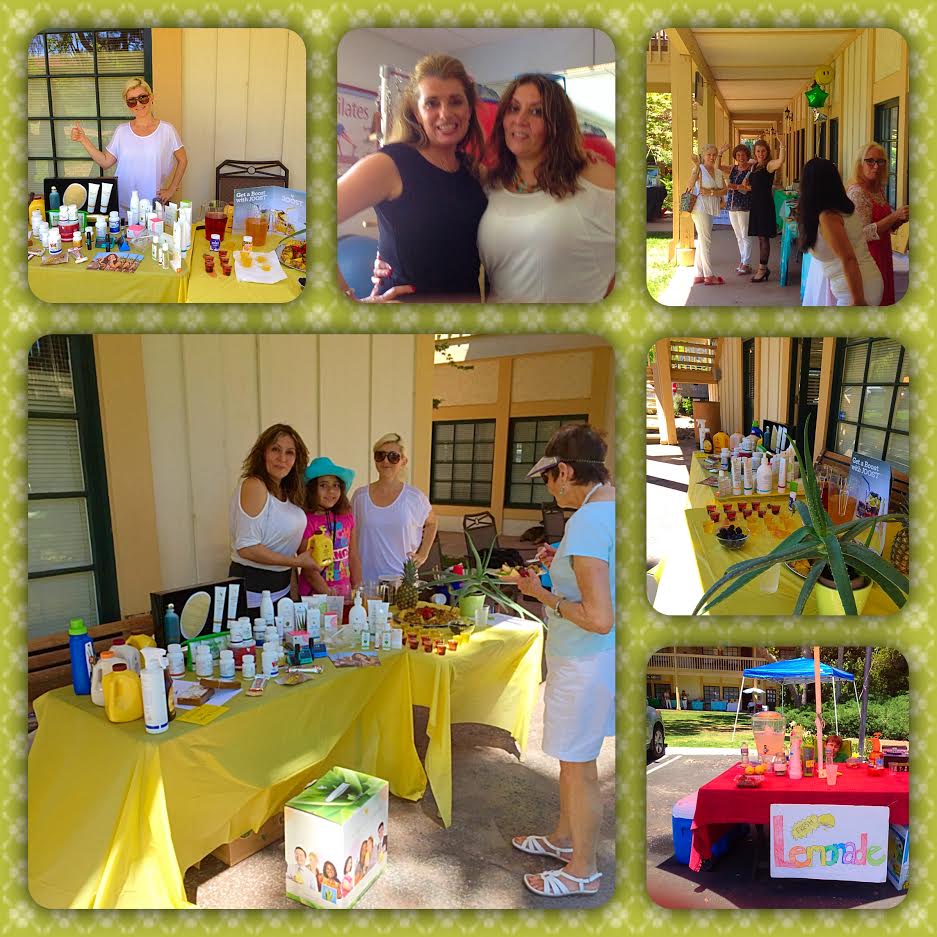 ---
Anti Aging Essential Oils
• Coconut Oil – Organic Virgin Coconut oil is packed full of vitamin E and antioxidants which makes it one of the top carrier oils when it comes to using anti aging essential oils. Not only can Coconut Oil reduce the signs of aging but it also protects the epidermis against cellulite, stretch marks and helps to eliminate Keratosis pilaris.
• Carrot Seed Oil – Carrot Seed Oil is full of carotenoids, which help prevent and block UV rays and rejuvenate the skin cells it also works to naturally get rid of eczema and psoriasis.
• Geranium Essential Oil – is a powerful anti-inflammatory and helps to even out skin tone and lighten age spots.
• Frankincense Essential Oil – Frankincense Essential Oil reduces the appearances of wrinkles, fine lines and scars. It's also wonderful for balancing the pH level of the skin and works to even skin tone and tighten up sagging or loose skin.
• Myrrh Essential Oil – Myrrh Essential Oil boosts the skin strength to smooth skin and helps to give a youthful glow appearance.
• Rosemary Essential Oil: – promoting tightness of the skin, reducing wrinkles and fine lines.
Using any of the above mentioned essential oils with a carrier oil on a daily basis is going to greatly improve the look of your skin and strengthen it in the process. I hope you all enjoy them just as much as I do!
---
A Summer Punch Recipe
We made a punch for our party that was a huge hit. We wanted to share it with you to help start your summer weekends off right. Here is the recipe:
1 Part Pink Lemonade
1 Part Sparkling Water
Vodka to taste (or feel)
It's simple, delicious, and sure to be a hit at your next summer party.
---
A Musical Treat
Panama Wedding has been a great up beat vibe for us. I really think you will like it as much as we do.
Here is the link to listen.
---
An ending note and thoughts on summer
Summers are busy. They include vacations, beach days, friends, and food. Let's be honest, it's amazing. We want you to soak all of it up that you possibly can. It just needs to be said that this is the time that your workouts are the most important. Sometimes you have to sacrifice what you want now for the results you want later! As always, if you are struggling to get into your workouts, give us a call. We will be doing european facial workouts and pilates sessions all through out the summer. Looking forward to seeing you soon!
---
As always we want to thank you for your dedicated support to your workouts, diets, and results. This is a labor of love for us and it wouldn't be the same without all of you. We want to be here for you the way you are for us. So please, if you have any questions about your progress or just need a little friendly advice, we are here for you.
-The DesiredFace Team