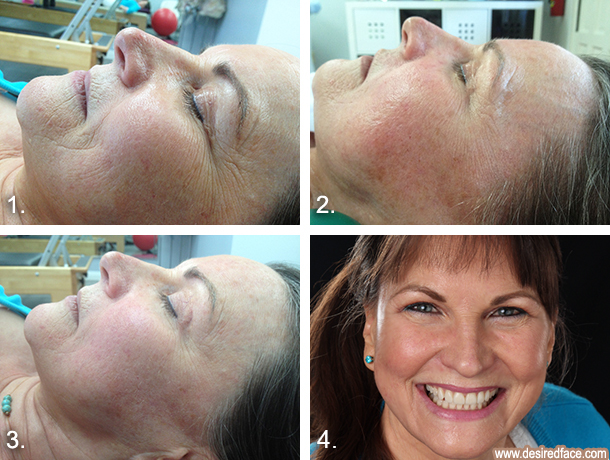 When I first heard of DesiredFace – European Facial Workout, it immediately made sense. I try to keep my body in shape with exercise and my face is also part of my body. I have gotten so many compliments." Kathie S.
---

"People think I have had work done but my non-surgical "secret weapon" is the facial exercise. It does work." Susan C.
---

"Erika is very patient and very knowledgeable instructor. Everyone should include this into their beauty and wellness regimen." Barbara S.
---
See what our clients share with you about their results and experiences:
I had the most unique experience with Erika's European facial workout. It is a wonderful way to learn great techniques to achieve a natural face lift. Her guidance is excellent and I feel she truly cares about me as a person. She is very intuitive with people and a natural teacher. I had a Pilates session as well & hope to have many more. I appreciate her attention to detail. The studio is a warm, relaxing environment.
Dana H.
I just had my first Pilates session and I couldn't be happier! I felt so incredibly welcome and taken care of from the moment I walked in. Erika was very helpful, knowledgeable and patient with guiding me through all the exercises, since it was my first time using the machines. It was such an incredible experience to have that individual care and one-on-one attention. She really understands the body by showing you the precise way to adjust your form and alignment to complete each step correctly and effectively. I'm definitely looking forward to many future sessions to improve my strength, health and wellness.
Annie D. B.
I have found my Pilates unicorn trainer!
Erika is an incredible personal trainer and her studio is small, private and intimate for one-on-one sessions. She's by far the best trainer I've ever worked with and she thoroughly guides you step by step (for beginners like me) making sure your breathing and alignment are correct. She starts me off using the Sonix Whole Body Vibration (I also do some exercises on it but this machine relaxes your muscles before and after your workout so you're not sore the next day), and I always request to finish on her inverted exercise machine (I love the health benefits of inversions but I can't do my own handstand yet).
What Erika really understands is about anatomy and where your weaknesses lie as a unique individual. She builds your workouts according to these and changes the number of repetitions necessary during the workout. She makes sure your breathing is right and most importantly ensures that you get the most of out of every exercise. Every week I see continual progress combined with different workouts that are tailored to the areas I need to work on most.
Highly recommend for anyone who needs the guidance from a trainer to become more fit, flexible, and overall increase their health!
Daniela P.
I have been doing Pilates with Erika at DesiredFace for almost a year. It is the best program I have ever been to. She is very knowledgeable about many aspects of the human body. She also teaches facial exercises which help with firming up your face. I highly recommend going to Erika, she is wonderful!
Barbara H. D.
I had my first Pilates session with Erika and it was wonderful. She is great at making sure your form is correct and helping you to breathe more effectively. I've done Pilates before but not had an instructor as thorough as her.  She is also very intuitive about people and can tell when you are impacted by emotional barriers. It was my first time experiencing a vibrating sonic machine that aids in balance and loosening.  Her studio is relaxing and welcoming. A great experience!
J. K.
Erika is very knowledgeable and friendly. She introduced me to Pilates guiding my breathing and movements very carefully. It was a very pleasant experience and I would definitely go on a regular basis if I lived in the area! Erika is awesome, her space is beautiful and I highly recommend it!!!
Mona S.
I take Pilates from Erika and she's wonderful. She pays strict attention to performing the exercises using the correct form and the correct muscles. As a warm-up and a finish I also get 10 minutes on this wonderful machine called the sonic which makes me feel like I've had a small massage after everything is done. I always walk away with a bounce in my step and a smile on my face. Thank you Erika!
Susan F. D.
Wow, what can I say? Erika has a beautiful space and knows what she is talking about. I feel awesome and look great. My weekly appointments are my pampering "me time" moments. I always leave feeling recharged and more confident.
Katie J.
It works! Your skin tingles and lifts, your muscles get toned. People have been noticing – my lips are more full. It makes so much sense, I will probably practice this the rest of my life! Thank you Erika!!
Susi M.
My girlfriend and I recently spent a couple of weeks in Westlake Village. She had a few Pilates sessions with Erika and was so impressed that she asked me to join her for her last session before we had to return to Los Angeles. Erika's space is incredible. The attention to every detail is very evident. The bunnies in the front lawn are a clear indicator of the beauty and tranquility of the surroundings. I am new to Pilates and found Erika's approach to teaching to be very refreshing and clear. Her insights are profound and quickly let you see that she truly cares. Her place is ideal for Couple's Pilates providing a relaxing and intimate setting as well as two side-by-side machines for simultaneous, synchronized breathing practice. Before we left she talked to us briefly about her Facial Workouts and the concept sounded very interesting. Something to look forward to when we return to Westlake Village.
Hector R.
What a breeze of the fresh air- facial exercise. I took 12 classes with Erika. My face looks so gooood! People do not believe me that I have not done botox or fillers. It does work. Erika is very patient and very knowledgeable instructor. Try it- it works!!!
Nelly B.
Erika Boldis is amazing! She now has a Sonic Whole Body Vibration machine that in 10 minutes provides a full body workout as if you spent an hour at the gym. Truly incredible results. It seems like you are doing nothing and yet your muscles tell you that you just worked out and your body starts changing. Erika is so knowledgeable about your body and will advise you to get the best results for your problem areas. If you need healing for your back or legs or hips or whatever, she knows just the right solution and you start feeling and seeing results in just 2 sessions. If you need toning or weight loss she will provide a simple step by step approach with the lease amount of time invested. I didn't believe it until I tried it. A MUST TRY!
Barbara S.
Erika is an amazing teacher and she has the best price for private lessons. She really takes her time and makes sure you are doing the moves correctly. Once you go to her you will never go anywhere else.
Robin K.
Pilates with Erika is great. I suffer from some significant injuries and each session is tailored to strength these areas. Erika is just lovely to work with and is an extremely caring person, such a joy. This is my fist experience with pilates and I've recently gotten out of a wheelchair after being sedentary for 2 months. Working with Erika is really getting my strength back.
Ann B.
Wow, what a place, what an environment. I love to go there for pilates and afterwards to get relief on my joints, with the sonic whole body vibration machine. While doing pilates, Erika always knows special moves to relive the pains in my aching joints. Erika has been working with me for the past three years with great results. I am glad you are so knowledgable about the workings of the body.
Thank you Erika.
Bela F.
I have been doing Pilates with Erika at DesiredFace for almost a year. It is the best program I have ever been to. She is very knowledgeable about many aspects of the human body. She also teaches facial exercises which help with firming up your face. I highly recommend going to Erika, she is wonderful!
Barbara D.
I've been going to Erika for a few weeks now for body (Pilates) and face workouts and already I am feeling and seeing the results. She is encouraging, knowledgeable and easy to work with. I highly recommend her studio.
Janet B.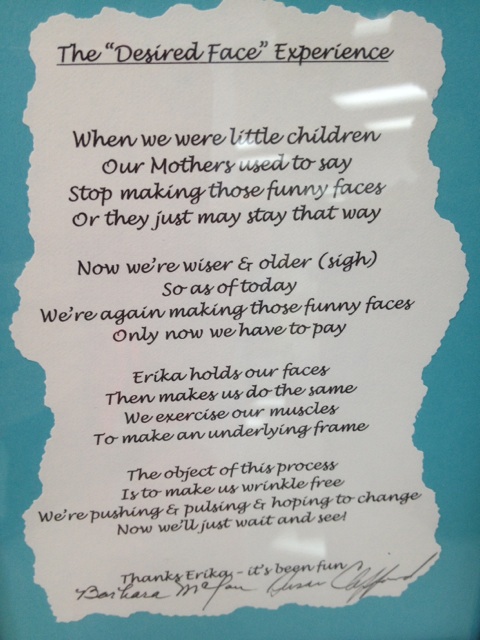 Over the holidays I saw many friends I had not seen in awhile. I was constantly being told "you look wonderful…did you lose weight, did you change your hair?" The simple answer is that I have been working with Erika for quite a few weeks now doing both the facial workouts and Pilates. My skin is more radiant, my rosacea is better, and my neck and cheeks are looking toned. I LOVE the face exercises and massages she has taught me. I also love her Pilate's workouts and I have already lost 2 inches on my waist and abdomen, 1 inch from my arms and 1 inch from my thighs. My daughter bought me some sessions for Christmas and told me I look better than I have in years! At my recent doctor's visit, my doctor told me that I look great and to keep doing whatever it is that I am doing!!! Thank you Erika for your wonderful natural face and Pilates sessions!!
Pam Y.
My body strength, energy, posture, vitality and all round physical well being has greatly increased in working with Erika. She "reads" your body and is able to teach you in a precise, detailed and collaborative manner. Erika guides you in discovering and maintaining your own strong healthy
body through the/her Pilate training.
Carol S.
Think of it as a personal trainer for your face. Erika helps you find muscles that you didn't know existed and than works with you to build up your facial muscles. I was sold on the 3rd or 4th session when I could see a visible difference at the end of the workout. And often less than 10 sessions my girlfriends started to ask what I was doing because they could see a difference.
Thank you Erika!
Cynthia J. C.
I feel like it's all about me and my body when I'm there. It's not like some of the Pilates studios where you feel like a number or a check. Erika makes me feel comfortable and secure. I have learned so much about the mechanics of my body. My posture, flexibility and strength have greatly improved. I can't possibly recommend it highly enough.
Great instructor!
Barbara B.
I've been doing this program for a few months now and the results are amazing!
The exercises are harder to do than you might think because you have to isolate very small muscles and many of the moves are quite delicate. It's worth every penny, the method is fantastic.
Thank you Erika; you are the best.
Richard T.
Related Articles: